Cochrane Corporate and Special Event Venue
Plan Your Escape from the Corporate World
If your team needs a break or you are keen to impress your clients or customers, the Cochrane Ranchehouse promises to over deliver.
This is the perfect setting to stimulate ideas, discover and create. The Ranchehouse is the place for peace, tranquillity and professional meetings, all with the flair of the natural west.
Open the door to comfortable accommodations, premier food and beverage services at a facility that you won't soon forget.
8 Separate Private Meeting Rooms
With eight flexible and private meeting spaces, we can accommodate meetings ranging in size from five to 200 people.
Be it a full day retreat, planning or training sessions, presentations, trade shows or banquets, we will work closely with you to ensure that all aspects of your event are covered.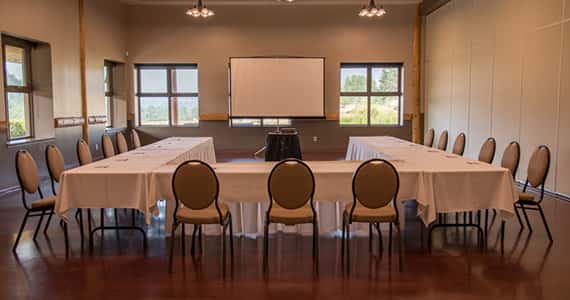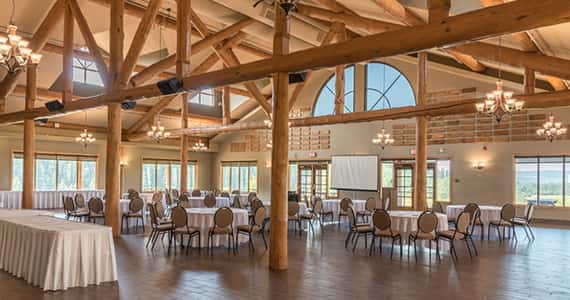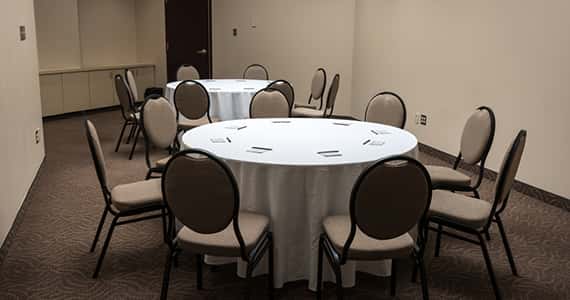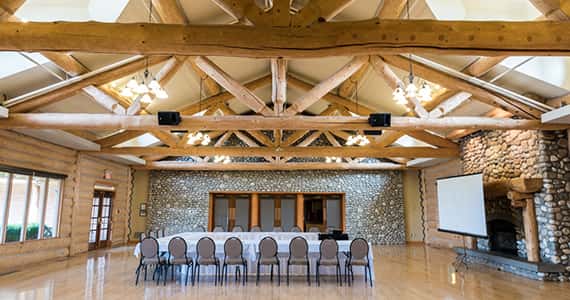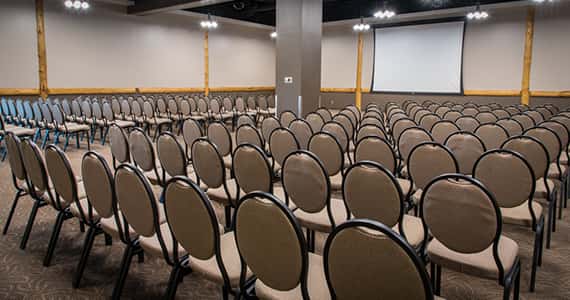 Cochrane Conference Centre and Meeting Spaces
Convenient and Acclaimed ~ Your Team and Clients will Never Forget Their Escape to The Cochrane RancheHouse. Every event and conference is as unique as the organization that is hosting it. The RancheHouse is the ideal setting for groups of all size and is the gateway to walking paths, local artisans, hearty meals and the pure beauty of the Alberta foothills and Rocky Mountains. Take in the stellar views, calm of nature and modern facilities of The RancheHouse. We look forward to sharing our space with you and helping make your visit memorable. Numerous rooms are available and can be set for any size of group.
Large Group or Special Corporate Event?
The Hall of Vision is perfect as it seats up to 112 and has an incredible 180 degree view of the town and breathtaking Rocky Mountains.
Need space for a more intimate or small group? Birch, Cedar, Sage, and Aspen rooms provide all provide the space, functionality and experience that you can only get at the Ranchehouse.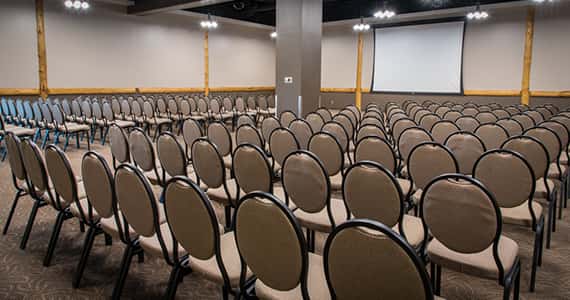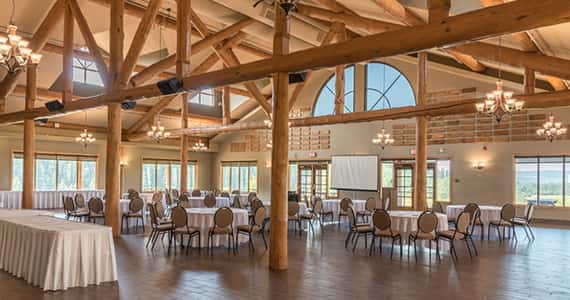 Dining Arrangement
Various formats for seating, tables, catering stations and more are available. Contact us today and we'll make it happen.
Hall of Vision (up to 112, tables & chairs)
The Chinook (up to 184, tables & chairs)
Aspen (up to 56, tables & chairs)
Birch (up to 56, tables & chairs)
Cedar (up to 56, tables & chairs)
Sage (up to 12, tables 7 chairs)
Aspen, Birch, Cedar combined (up to 224, tables & chairs)