Cochrane Catering Specialists
We are a Cochrane based, family owned catering company celebrating 25 years in business. Our goal is to exceed your expectations and bring your food vision to life. We are happy to prepare your chosen menu to meet your needs including food sensitivities and allergies.
As the Cochrane RancheHouse's corporate caterer, we cater the numerous in-house functions each year. All meals are prepared on site to provide fresh, superior quality dishes with innovative ingredients.
Our head chef, Evan McColl is a Red Seal Chef who graduated from SAIT in the Culinary program with honours. He has travelled around Australia and North America to bring you great tasting meals that will "wow" you and your guests. Evan takes pride in his work and it shows in the details on your plate. Evan and his culinary team are ready to serve you and your guests.
The Ranchehouse Food Services menu offers a wide variety of meals including continental and full breakfasts, delicious lunches and special event dinners. For your convenience there is an à la carte or full day service option available to meet your specific needs.
Two seasonal menus provide additional choices, the "Grill Menu" or the "Winter Menu." The RancheHouse also offers a full service Corporate Bar Menu.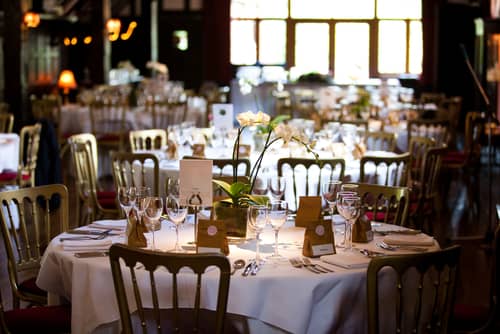 Our event was a great success and the wonderful food was a huge part of that. Your staff were excellent, friendly and efficient and the food was fantastic! We will definitely be booking future events at the RancheHouse.
M.

We were delighted with the catering service and food served. "Lunch was bar none, delicious!"
R.

We were very pleased with the catering service and our guests were very impressed with the facility. "Thank you for meeting our dietary requests."
J.