Allow the Cochrane RancheHouse to help make your dream wedding everything you could have ever wished for.
THIS is where amazing memories are made!
Five flexible indoor event spaces with rustic contemporary log home charm, plenty of natural light and complete amenities await.
There is also a breathtaking outdoor courtyard, complete with patio, gardens and pathway that leads to the original Cochrane Ranche below. This wedding venue is majestic in every way and a perfect romantic complement to indoor events as well as outdoor wedding ceremonies.
We invite you to come and visit our cherished wedding venue space so that you can experience just how magical and spectacular it is firsthand. As you begin planning your big day, we look forward to being a part of your story.
Contact us today to arrange for a facility tour.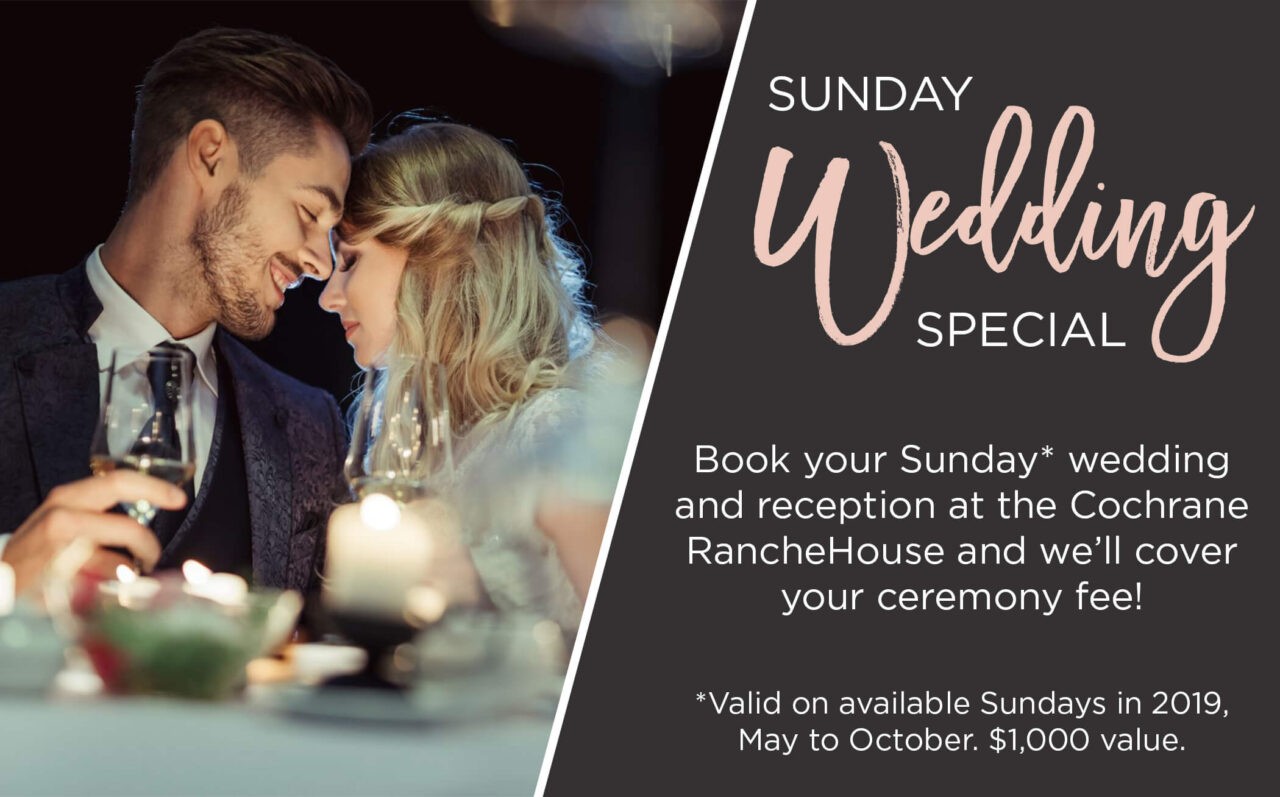 Wedding Reception and Event Spaces
Welcome to the Cochrane RancheHouse.
Hall of Vision (up to 112)
The Chinook (up to 184)
Aspen (up to 56)
Birch (up to 56)
Cedar (up to 56)
RancheHouse Courtyard (up to 200)
Aspen, Birch, Cedar combined (up to 200)
If you are interested in holding your wedding at the Cochrane RancheHouse, see the appropriate information package below.
A Hidden Gem Nestled in the Alberta Foothills.
Do you want a truly elegant, unforgettable location for your wedding, reception, or social event? With panoramic views of the Canadian Rocky Mountains and the historic Cochrane Ranche, our wedding venue at the RancheHouse facility has all the ingredients for making magnificent and lasting memories.
Five flexible indoor spaces, and the outdoor RancheHouse Courtyard, provide stunning backdrops to accommodate all your plans and dreams. The facility can host weddings up to 200 people.
Our staff will work with you to ensure your complete satisfaction and make certain that every detail is covered. It is your special day, so let us take care of the little things! Come out and visit us to see what an exquisite location the RancheHouse could be for your wedding or social event.
WEDDING CATERING SERVICES
All catering at the Cochrane RancheHouse is provided through the following caterers.
Food and beverage services are provided by our two excellent caterers. They would be pleased to assist you with your catering needs. A cocktail reception or a fully catered buffet or plated banquet are available options. Please contact them directly for details.